Resources and Information concerning the Coronavirus COVID 19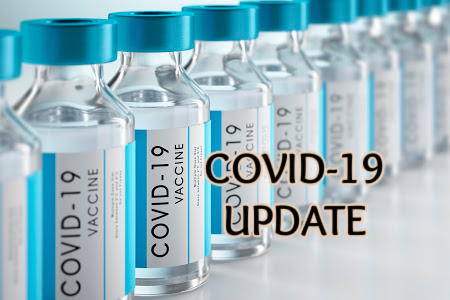 COVID UPDATE – March 4, 2022
From the Property and Insurance Team…
…MORE GOOD NEWS with a caveat!!!
It appears that all of NJ is continuing in the right direction with infection rates deeply decreasing. Praise God. We are also seeing mask mandates in schools changing as well as almost all public places. Before you make any major changes to your mask policies for worship (including singing) and all in person meetings and events, please be in discernment with your Leadership about how the changes will impact ALL of your congregation including people young children, people with disabilities and those who are at high risk, so that everyone can feel safe in returning.
Mark 12:29-31
29 Jesus answered, "The first is, 'Hear, O Israel: the Lord our God, the Lord is one; 30 you shall love the Lord your God with all your heart, and with all your soul, and with all your mind, and with all your strength.' 31 The second is this, 'You shall love your neighbor as yourself.' There is no other commandment greater than these."
COVID UPDATES 7 January 2022
Questions and Answers about COVID 7 January 2022
COVID UPDATES 3 September 2021
You Shall love your neighbor – COVID Protocols Update September 2021
NJ Department of Health guidance on mask wearing
NJ Department of Health guidance and mandates for Schools
COVID UPDATES  21 JUNE 2021
Can we Sing? Resources from Sing! The Center for Congregational Singing
The Ecumenical Consultation on Protocols for Worship, Fellowship and Sacraments – Guidelines for resuming in person worship
Updated Guidance, not legal Advice, from PC(USA) Legal Resources on resuming in person worship
A Guide to Gathering Virtually from the Forum for Theological Exploration
Updates Early June
What do the COVID restrictions lifted mean to the Congregation – From the Presbytery Leader
Presbytery Office COVID Update information 
COVID Mitigation Strategies for  Choirs
Singing – Aerosol Data and Information
Presbytery Check list and COVID 19 NJ Information
APRIL 2021
FAQ on COVID and Church Building Use from PCUSA Legal Services
MARCH 2021
Recommendations from the Trustees  for determining whether to stay in person worship or go back to virtual
Newton Presbytery Reentry requirements 17 June 2020  REVISED
COVID 19 ACT NOW NJ –  Updates Daily
COVID-19 Activity Level Index (CALI) Weekly Report
Vaccines UPDATE February 2021
COVID Resources and Links for Churches
Facts on the Coronavirus February 2021
UNDERSTANDING mRNA and OTHER VACCINES
VIDEO  Vaccines, Variants, and Various Other Items 
February  2021 UPDATED
Lisa Allgood, Presbytery Leader for the Presbytery of Cincinnati and immunocytochemist by trade has compiled an LENGTHY list of resources and information about COVID 19.  Here is a link to the google doc of information. 
January 2021 UPDATED
Recommendations from the Trustees  for determining whether to stay in person worship or go back to virtual
Letter from Trustees November 2020 PDF
COVID 19 ACT NOW NJ –  Updates Daily
COVID-19 Activity Level Index (CALI) Weekly Report
REVISED
Newton Presbytery Reentry requirements 17 June 2020  REVISED
Check List for Reentry 12 june 2020  REVISED
Presbytery of Newton Guidelines – Version 1 May 2020
From General Counsel, PCUSA, Michael Kirk – "Liability Issues to Consider on ReOpening Churches for Live Worship Services" Updated August 31
Returning to Public Worship – Theological and Practical Considerations  Office of Theology, Formation and Evangelism PCUSA Presbyterian Missional Agency.  August 31
Updated Information for the Insurance Board – July 21
Video – Rev. Dr. J. Herbert Nelson, II, Stated Clerk of General Assembly – "Don't Rush back too soon…"
Resuming Care-filled Worship and Sacramental Life during a Pandemic – 10 June 2020
Returning to Church – Guidelines from the Wisconsin Council of Churches
Beginning Conversations for Reentry – Presbyterian Mission Agency Office of Theology
New Way: A Podcast exploring the Connections between People, the Communities, and the Ways that Context Shapes Faith
Worship Resources and Faith Formation during the time of COVID 19
Online Meetings – PCUSA Information
Health, Medical and Board of Pensions Information